Description
WooCommerce Dropshipping

Version 2.4 Now Available – Amazon Affiliate support
Now you can have Amazon products directly in your store, that you're an affiliate for. Customers click to buy on your store and pay on Amazon, giving you an easy way to sell any Amazon affiliate supported product yourself without a lot of manual work.
Version 2.3 Now Available – AliExpress Automation
Our new version, with our free Google Chrome extension, allows for automatic completion of shipping details on new orders via your AliExpress login – no need to manually type out order details any longer!
Dropshipping made easy!
WooCommerce Dropshipping is designed to make Dropshipping easy and hassle-free. This lets you sell more, and work less!
WooCommerce Dropshipping is a powerful store management tool for dropshipping stores. It is ideal for:
Managing a dropshipping store.
Automatically notifying suppliers when their products are purchased through your store.
Quickly importing inventory per supplier
Assigning inventory to specific suppliers.
Easily assign products to your dropshipping suppliers
Assigning a product to a supplier is as simple and intuitive as it should be. Simply pick a saved supplier from a drop-down menu in the product editor.
Import Aliexpress products in just a few clicks.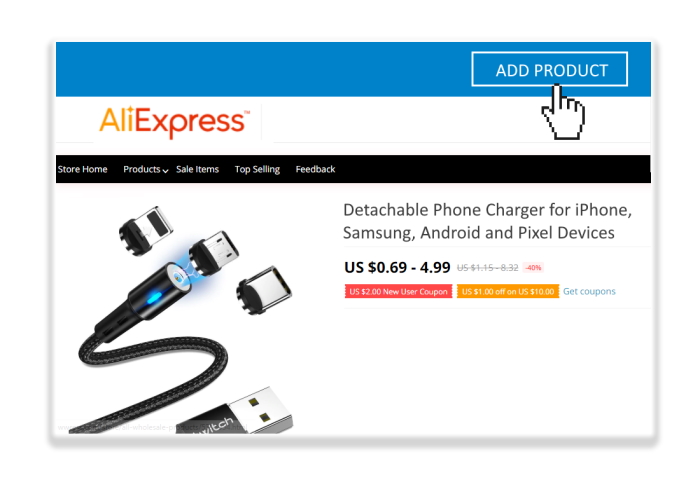 With the help of our Chrome extension, you can easily import products from Aliexpress in just a few clicks. Simply visit the page of the product you want to import and click "Import".
Send automated order notifications to suppliers
WooCommerce Dropshipping auto-generates order notifications and sends them to your suppliers via email. These notifications contain everything the supplier needs to know in order to ship the item,  such as the order details, addresses and chosen shipping methods.
Add dropshipping suppliers and easily import inventory
Easily manage, add and update dropshipping supplier information. View a supplier's email details, product count and more.
Supplier inventory can be imported from a CSV file provided by your supplier. This is great for bulk-assigning products to the same supplier.
Customise your email notifications
Add your store's branding and contact details to every order notification. Include your logo, contact details and more in the order notifications that are sent to suppliers.
Suppliers can log in and access order information
Your dropshipping suppliers now have access to a locked-down version of your WordPress website. After logging in, they can:
View order details, addresses and shipping information for the customers who buy their products.
Check the status of orders and mark them as "complete"
Download an order's packing slip in .pdf format.
Full SMTP support
SMTP is more reliable and secure than standard email, making it ideal for dropshipping stores. WooCommerce Dropshipping fully supports the sending of emails via your store's SMTP configuration.
FAQ
How do I add a supplier?
In the WordPress admin menu, go to Products > Suppliers. From this screen, you can add, manage and delete suppliers.
How do I customise order notifications?
Navigate to WooCommerce > Settings > Emails and click the Dropshipping Notifications tab. From here, you can customise the emails that are sent to suppliers as well as add contact information.
How will my drop-ship supplier bill me for the order?
Often a supplier will allow for NET 30 or use a credit card on file. Ultimately how this happens is between you and your drop-ship supplier.
Why is a PDF not included in my notification emails?
To enable PDFs, go to WooCommerce > Settings > Emails and click the Dropshipping Notifications tab. Scroll to "Send your full order information" to enable and configure the PDF files that are sent to suppliers.