Description
WooCommerce Point of Sale
An advanced toolkit for placing in-store orders through a WooCommerce based Point of Sale (POS) interface.
Point of Sale for WooCommerce is a web-based point of sale (POS) application that allows store owners to sell online products in brick-and-mortar stores, seamlessly. It turns any modern web browser into a cash register, allowing you to holistically manage your products, orders and customers. Point of Sale for WooCommerce is perfect for retail stores, market stalls, food and drink vendors, vape stores, jewellers and more.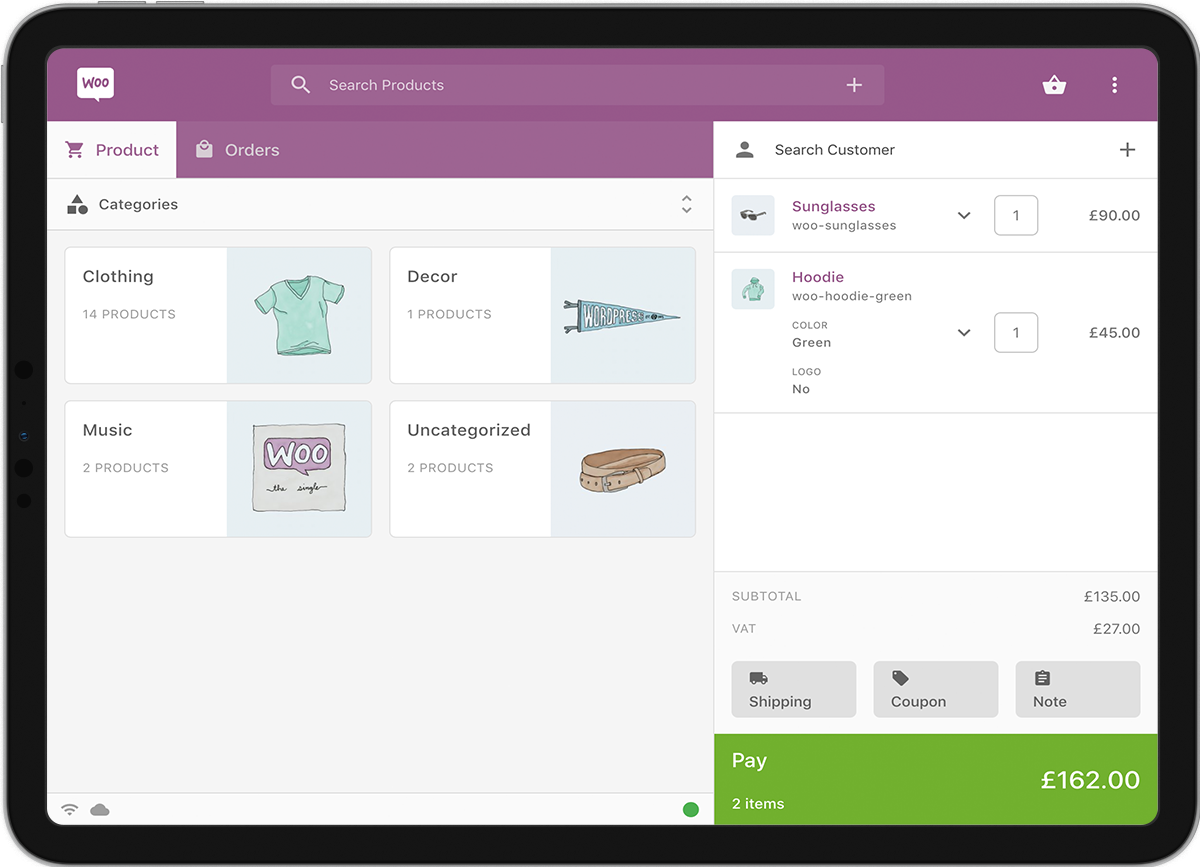 Built for WooCommerce
With over five years of research and development, Point of Sale for WooCommerce has been designed and built to work natively with WooCommerce. There are no third-party API interfaces; simply download and install the extension, open a register, and start selling.
Multiple configurations
Offering a variety of POS configurations, this extension provides flexibility and versatility for store owners to remain both competitive and innovative for success and growth.
Registers and outlets
Manage multiple outlets and registers to grow and expand your e-commerce business, both in-store and online. Assign users to outlets to provide a register and cashier user access environment.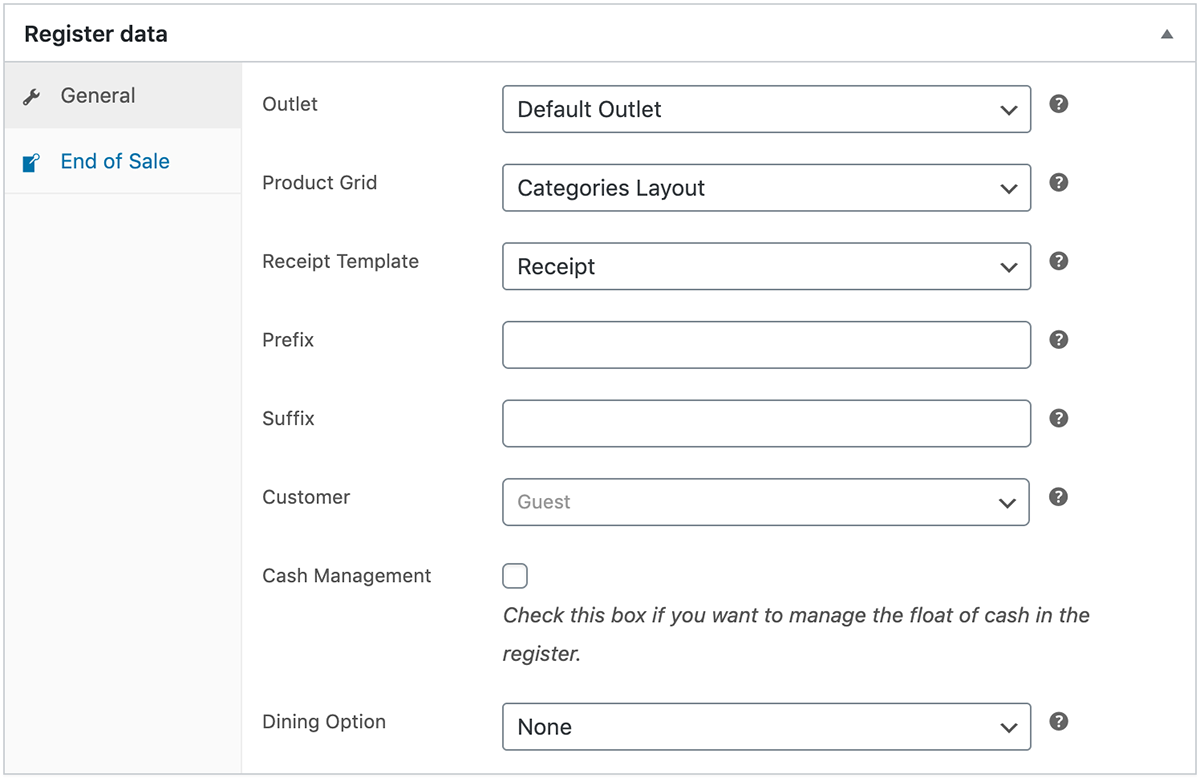 Store departments
Configure product grids and tiles to show individual products and/or categories. Assign grids to specific registers to provide a tailored POS experience for each store department.
Bespoke products
Add custom products on-the-go right from the POS interface. Include important product attributes like color and size, and simultaneously publish them to your existing catalogue.
Coupons, discounts, and fees
Reward your customers with fixed or percentage-based discounts, including coupons. Additionally, cashiers can charge a fixed or percentage based fees, i.e., cleaning services or insurance protection.
Order and customer notes
Attach notes to important orders that require special attention. Choose between notes that are sent to the customer and administrative notes for internal record keeping.
Order management
Locate previous orders to repeat or to query customer enquiries, and see where the orders were placed and who served the customers.
Payment methods
Accept cash, or process payments with the third-party card terminal of your choice. The included Chip & PIN payment method can prompt cashiers with a reference number for record keeping purposes.
Assistive prompts
Configure what prompts appear at the end of each sale, such as email or printing of receipts, reviewing attached notes, or capturing signatures for authorization purposes. Apply defaults for both customers that are registered and walk-in customers.
Quick switching
Switch between assigned cashiers  from within the POS application, or configure the register to automatically log the cashier out after each sale.
Product showcase
Showcase your products in detail using the built-in product preview panel. This is useful for store owners who want to provide a digital shopping experience in-store.
Store cards
Serve your regular customers by quickly scanning their assigned customer card to load their details to the POS.
Units of measurement
Define and set your preferred units of measurement for stock-keeping. This is useful for products like flooring, fresh produce, fabric, or jewelry.
Barcode scanning
Scan any product SKU barcode using a compatible USB or Bluetooth barcode scanner to identify a product or product variation .
Product barcodes
Print product barcode labels to quickly scan and add products to the order. Choose from a selection of templates and configure what information is displayed on the label.
Stock keeping
Manage your stocks easily through the stock-keeping interface. Enter your product SKU and new count, and choose to either update, replace, or remove stock count.
Order filtering & reporting
Filter your online sales from your in-store sales in the backend using the register and outlet filters, and generate reports based on sales placed through the POS by register, outlet, or cashier.
Tax calculation
Taxes are automatically calculated based on tax rates and class settings. Configure taxes based on store address, outlet address, customer billing address, or customer shipping address.
Frequently Asked Questions
Q: What hardware do you recommend to use?
A: Point of Sale for WooCommerce is a web-based application, therefore, all hardware must be able to interact with HTML pages. You can read more about compatible hardware here.
Q: Does this work anywhere in the world?
A: Yes, Point of Sale for WooCommerce works in any country that WooCommerce supports.
Q: Can I run this on any computer?
A: Yes, Point of Sale for WooCommerce runs in most modern web browsers including Google Chrome, Safari, Firefox, and Microsoft Edge.
Q: How easy is the setup process?
A: Very. Download and install the extension. Click on Point of Sale and open your register. It's as easy as that!
Q: Does this extension store my data or transmit it to any third-parties?
A: No. WooCommerce handles all the e-commerce functionality and payment processing in exactly the same way as your online store.