Description
YITH Woocommerce Recently Viewed Products Premium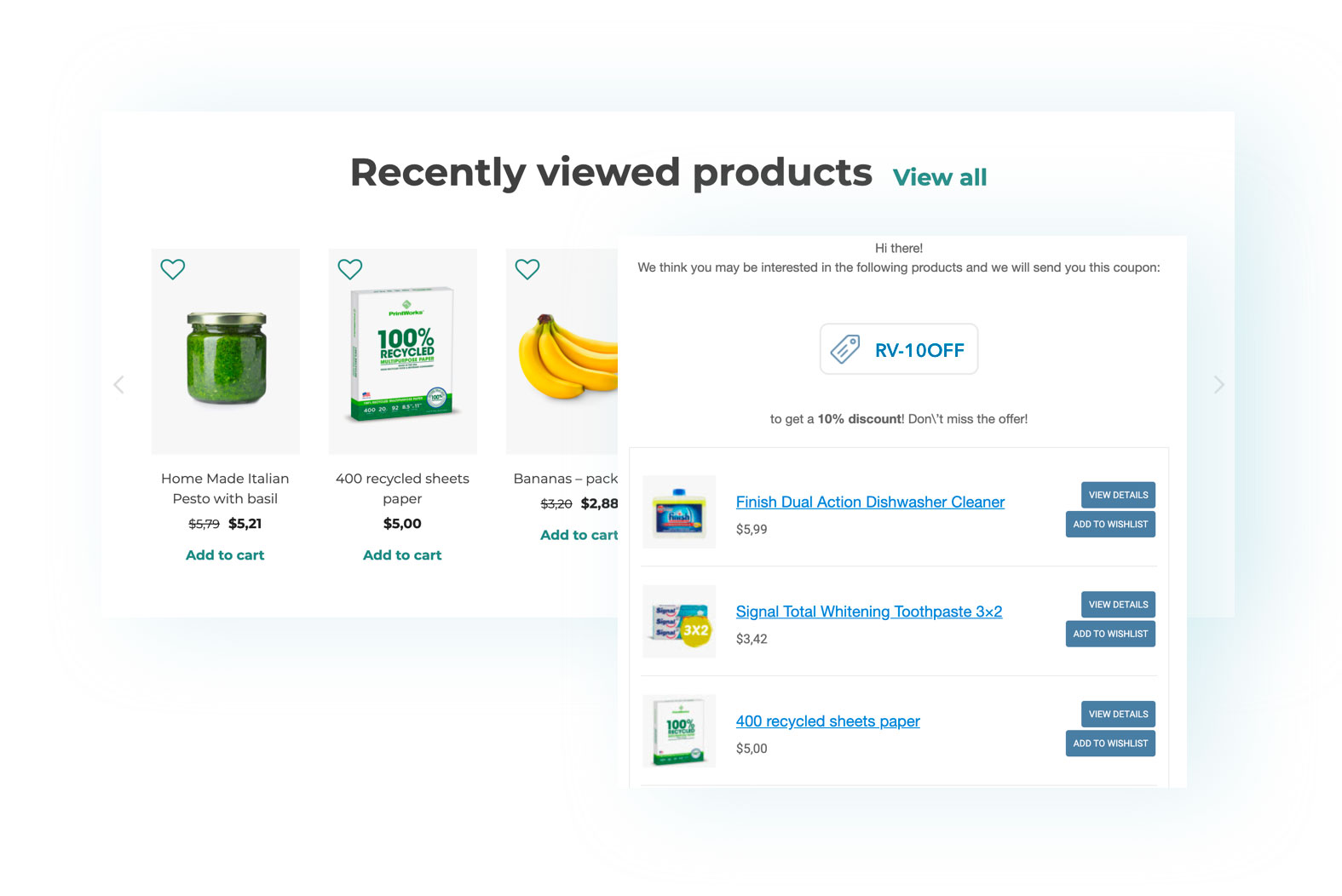 Help your customers to find the products they were interested in and push them to buy with dedicated emails and discounts
Customers visit your shop, look at an item, they want to purchase it but… something suddenly distracts them, they stop watching and postpone their purchase.
But what if they can't find what they were looking at when they return to your store? This is a very common scenario of how you are missing out on a good chance of making a sale!
Have you ever noticed that the biggest shops worldwide, like Amazon, show a "Recently viewed products" section? While you are browsing the site, you will be shown those products that you have already viewed before, as you are more likely to buy one or more of them.
YITH WooCommerce Recently Viewed Products is a simple and powerful tool that leverages on the navigation history to offer users the products they have looked at on your e-commerce site.
You can also build a powerful marketing strategy and send automatic emails with coupons and special offers to push users to buy the items they are really interested in.
Choose where to show the "recently viewed" section
You can either create a dedicated page or, thanks to the shortcode, show the recently viewed section wherever you want: on the Home page, on the Cart page or in My Account area. You can also use the built-in widget to show the products in a sidebar or in any widget area of your theme.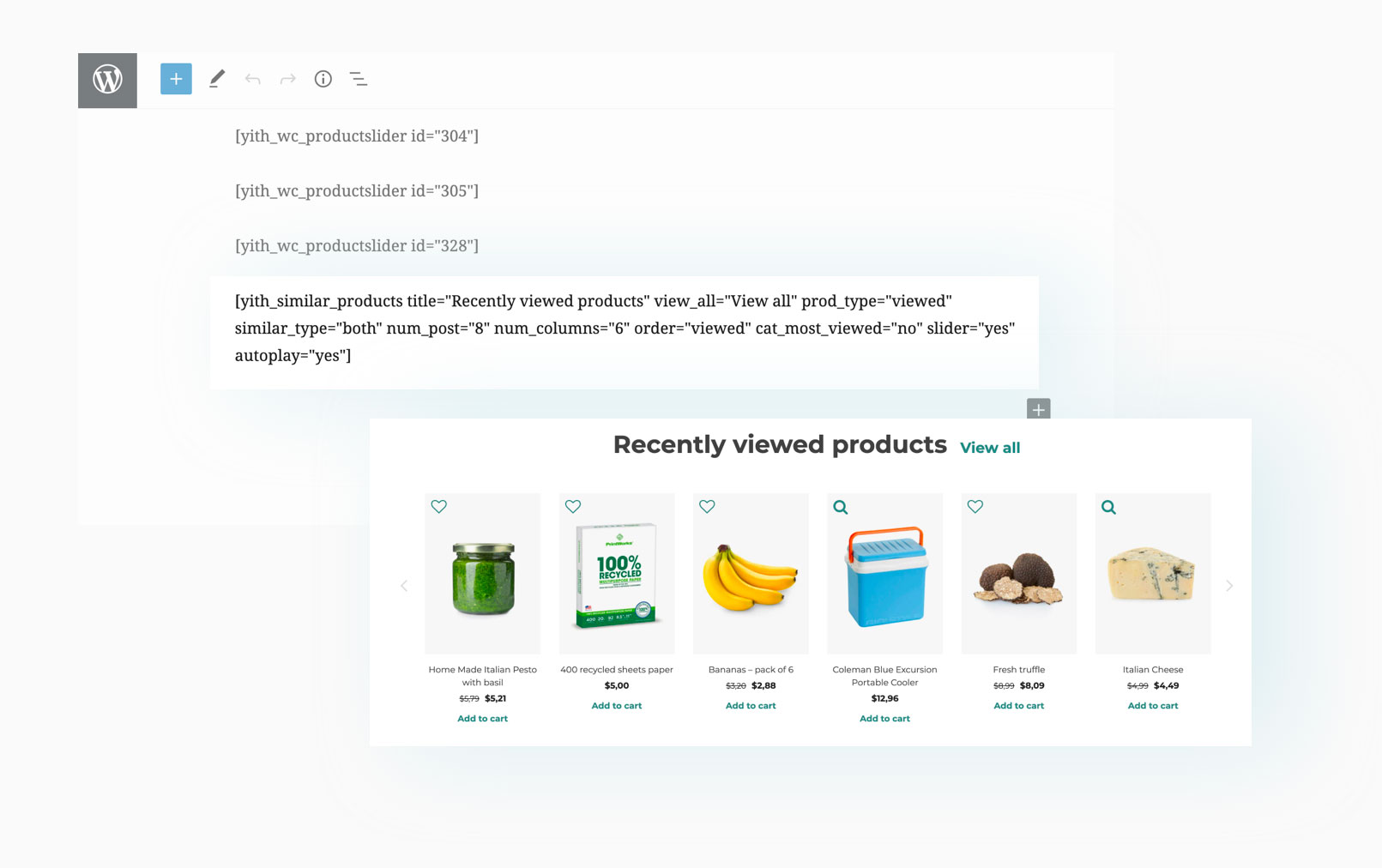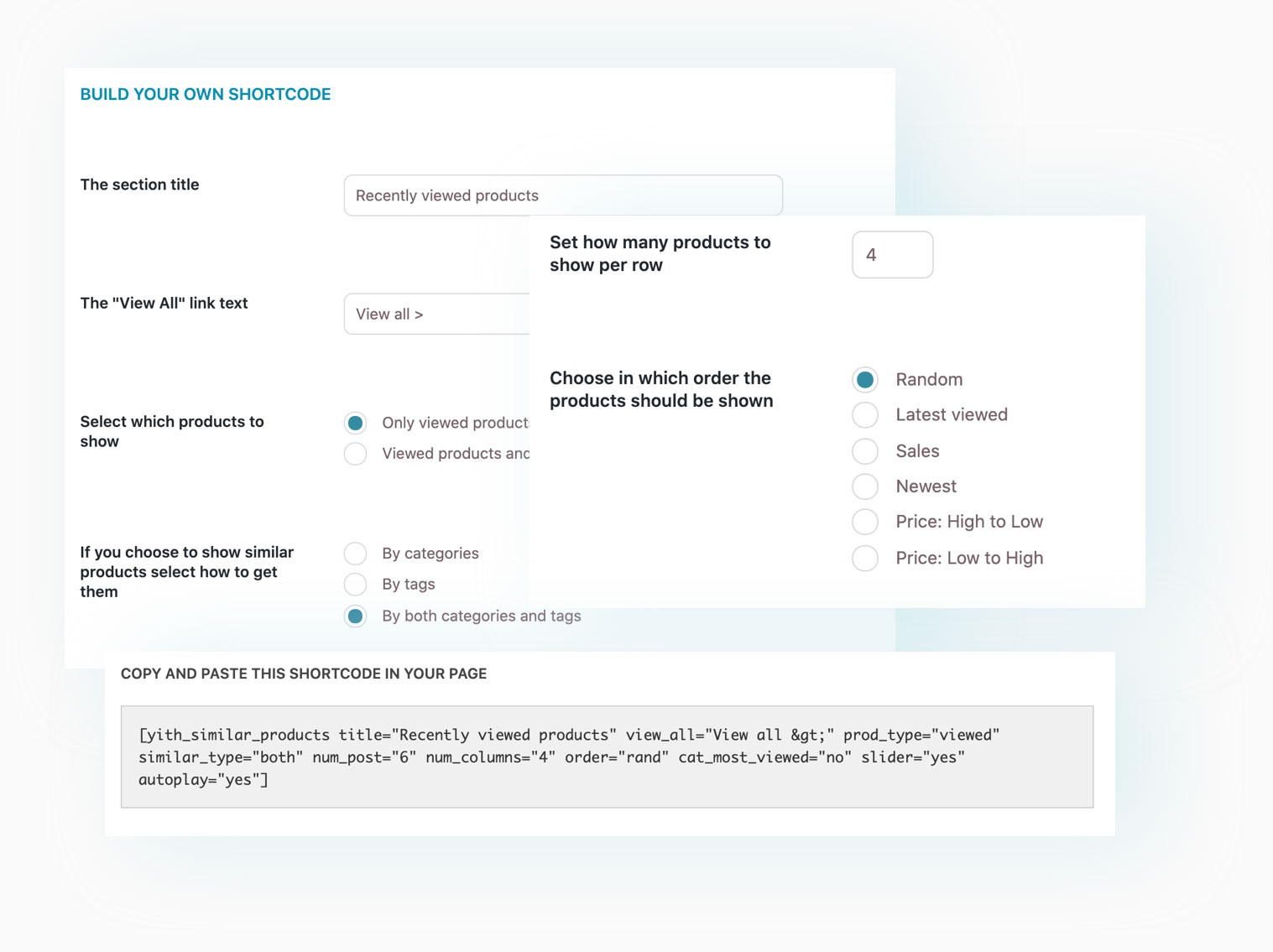 Create unlimited shortcodes with your custom settings
Choose whether to show only the products that your user has viewed or also related products (those in the same tag or category), set how many products you want to show and how to sort them, enable or disable the slider: configure the plugin to your taste and generate unlimited custom shortcodes. You will just have to copy and paste them where you want them to be. Quick and easy.
Show a "Most viewed products" section
Showcase your most popular products: thanks to the "Most viewed products" shortcode you can create a section to show a list with the most viewed products. Also for this shortcode, you will be able to set the number of products, choose whether to show all most-viewed products or just those belonging to specific categories and enable the slider.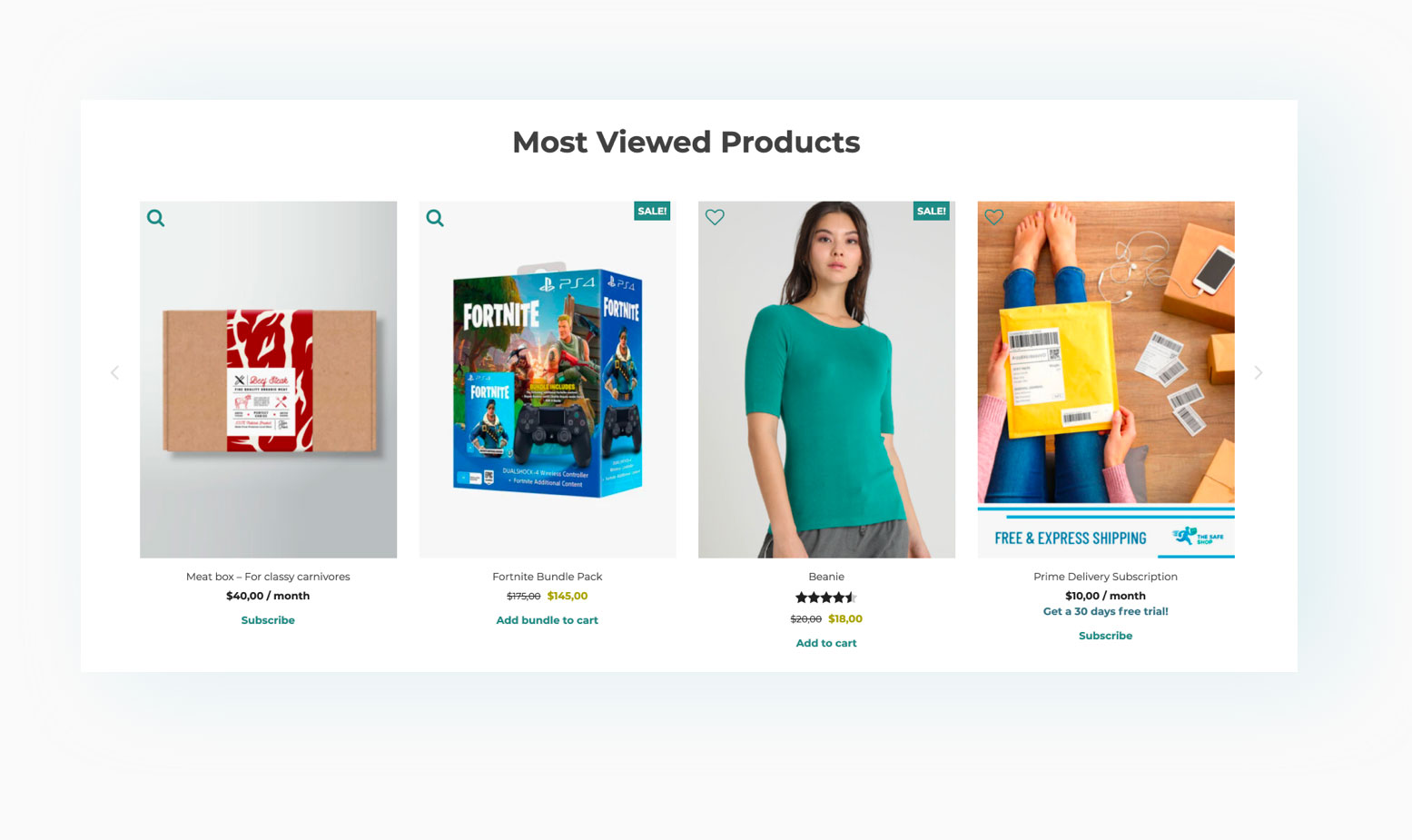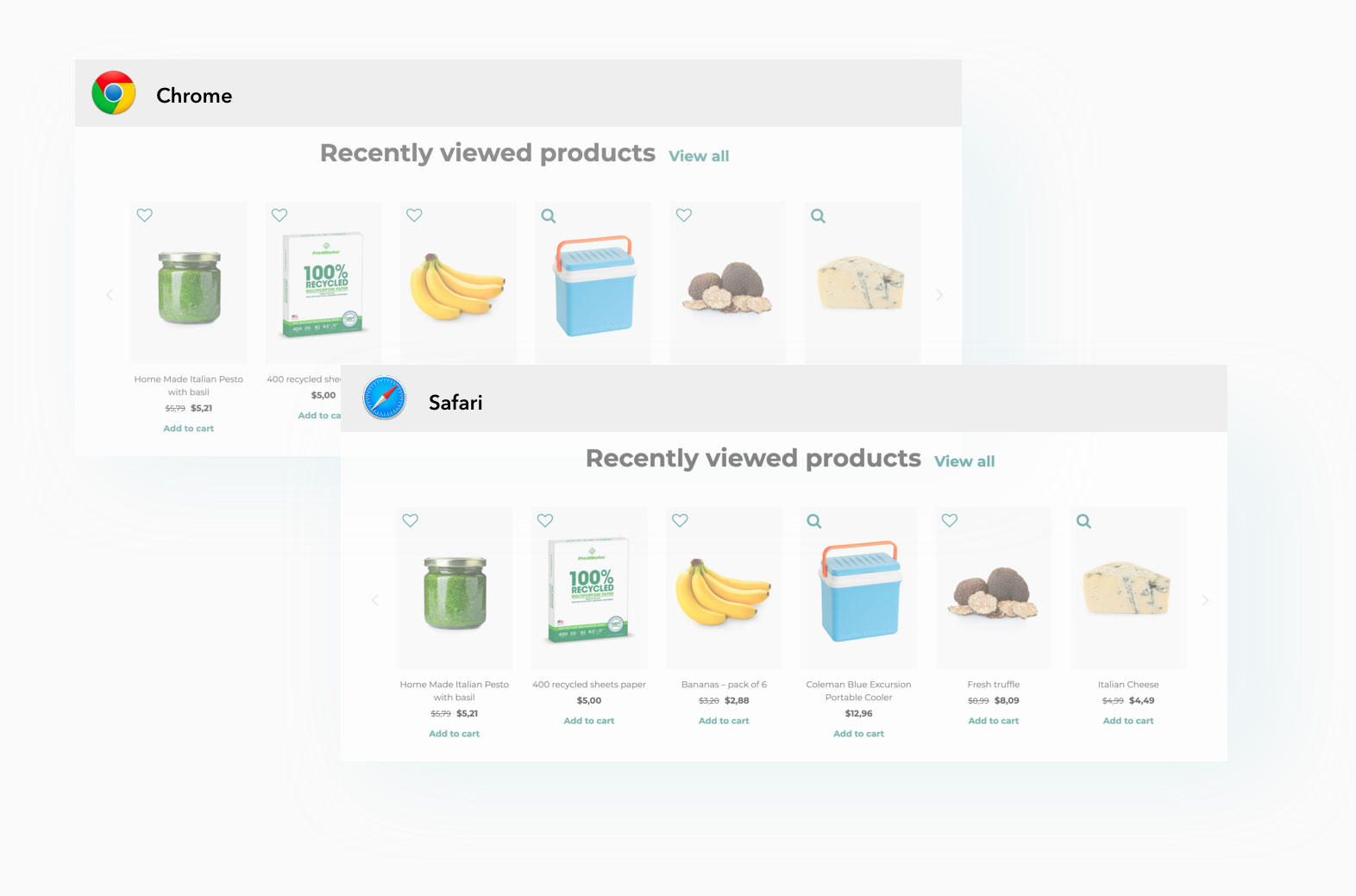 Keep users' list of products updated even on different browsers
Thanks to the additional data storage in your site database, your users will be able to see the "Recently viewed" section even if they visit your store from different browsers.
Schedule automatic emails to bring your users back to your shop
Set up an automatic email after a certain number of days – of your choice – that reminds your users about the products they have viewed in your shop. Once this option is enabled, the plugin will do everything for you, send the reminder email with your time settings and invite users to buy the products they are interested in.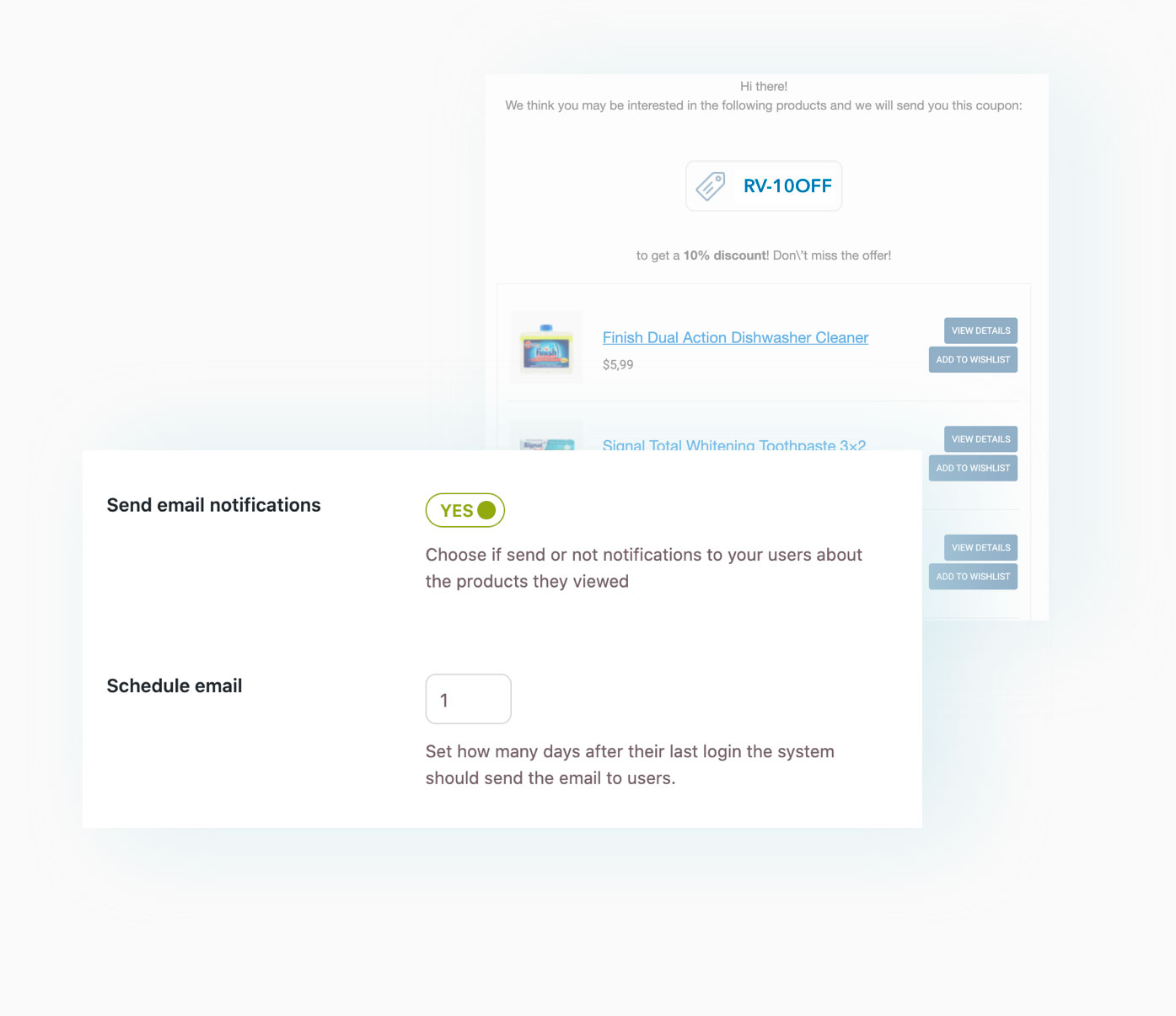 Customize the automatic email message and attach a coupon code
Use the built-in editor to customize the automatic email message: add a persuasive text and attach a custom-value discount code to encourage your users to purchase the products they are interested in: one bonus they will not want to miss!