Description
WooCommerce Smart Coupons
10,000+ customers and 5+ years track record.
---
Have you ever thought about this?
99 out of 100 people who come to your site run away without spending a penny.
Yes, the site you built with lots of money, time and emotions. Yes, the same people who came to your site after your endless marketing efforts.
Frustrating, right?
If you can get just one more person to buy, you instantly double your sales…
Now listen, people will tell you about hundred ways to improve conversions and loyalty.
But three methods are absolutely essential. You got to use them before you anything else.
So what are they?
Top 3 tactics to instantly get more money and higher conversions
Make sure you have awesome images/visuals for your products
Offer discount codes, coupons, and gift vouchers
Provide free shipping – either flat free shipping or conditional
Now you can't magically improve your product images overnight, but you can certainly "kill it" with the other two tactics in just a few minutes!
Yes.
Everyone loves to get more than what they pay for. Which is why discount coupons and free shipping give such wonderful results.
And WooCommerce Smart Coupons plugin makes it a piece of cake to create, issue and manage everything around coupons, credits, and gift certificates.
It is like Jedi marketing powers for you!
---
Top 12 things people do with Smart Coupons
Here are some of the main reasons why people use Smart Coupons.
Automatic bulk coupon generation and dispatch – generate thousands of coupons at once, email to customers, add them to WooCommerce and export to CSV to share with partners. Or import via CSV.
Issue coupons on product purchase – sell gift vouchers or give a discount on other products on purchase of one product. Great for upsells, downsells and to encourage repeat sales!
Comprehensive Store Credit system – customers can maintain, top-up and purchase from their fund balance. Grows customer lifetime value.
Gift Certificates – purchase and send gift cards/ vouchers/credits to yourself or friends custom messages
One click coupon use – no need to remember or type codes. Shows available coupons on Cart & My Account page and applies with a single click
Easy sharing with URL Coupons – pass a coupon in a link and automatically apply it
Beautiful coupon designs – to show on your site. Plus easy embedding with a shortcode, handy coupon insertion tool in content editor and full design control via CSS
Totally self-managed – automatic credit balance maintenance, automatic coupon removal on zero balance and more
Subscription coupons – allow coupons to pay for subscriptions – first time as well as renewals
Migrate coupons from one store to another via Import-Export
Compatible with other WooCommerce plugins – including Subscriptions, Chained Products, and most others
Battle-tested plugin – thousands of customers and many years of track record
Detailed documentation and clear Plugin APIs
There is much more to Smart Coupons though… Read the documentation for detailed guides on using Smart Coupons on your site.
---

The best solution for flexible coupons and gift cards for WooCommerce
Smart Coupons is one of the best selling WooCommerce plugins ever. It is the most comprehensive coupon, discount, gift card and store credit solution for WooCommerce.
More than 10,000 WooCommerce store owners like you use Smart Coupons to increase sales, reward customers and create loyalty.
People say that Smart Coupons is so amazing that it pays for itself. People double their sales with Smart Coupons during the holiday season and attribute 20% sales to Smart Coupons month on month. If we put it together, that's probably billions of dollars of extra revenue!
---
Backstory: from a failed holiday season sale to record-breaking sales…
Back during the 2012 holiday season, we wanted to drive sales for new products. We tried a lot of things, but sales weren't picking up.
Then we got the idea to send discount coupons to existing customers. Unique coupon codes for each customer. This way we acknowledge customers for their support and create a special offer for them.
As we scampered around to send this campaign just before the holiday season, we realized a big problem.
WooCommerce has a solid core coupon system. But it needed manual coupon creation and dispatch.
The process was to create a coupon, enter a unique coupon code, setup all coupon options, restrict the coupon to customer's email and then save. I'd even have to keep a track of all this and send emails to customers – ensuring nothing goes wrong.
It'd take me days to do this. And I could see how disastrous this would be for us…
So what did I do?
I created Smart Coupons!
It created and emailed thousands of coupons in a matter of minutes.
And yeah, we also recorded the highest ever sales that season!
All thanks to coupons. And the little WooCommerce plugin I built.
---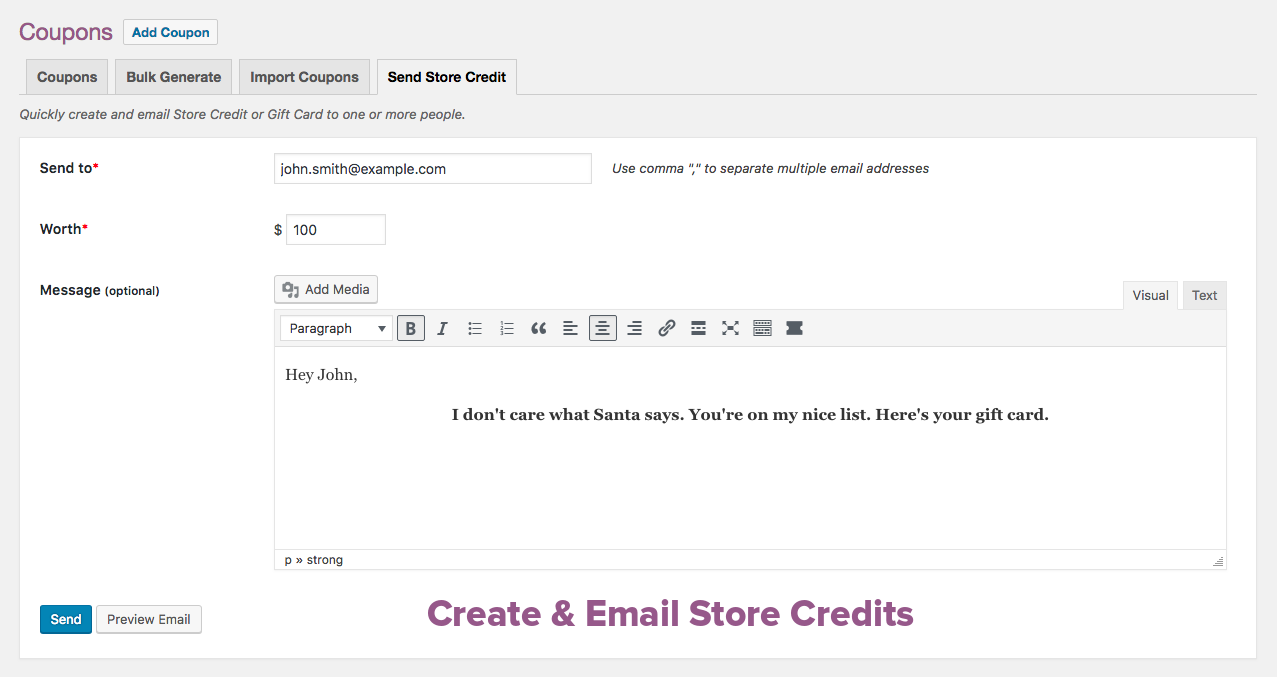 Our promise to you and all Smart Coupons customers
Look, I never compromise on reliability and ease of use. We've created the most elegant – yet the most powerful – coupon system for WooCommerce; and I am proud of it.
We fully understand that a broken coupon system can bring down the entire checkout process and frustrate customers. It can jeopardize any marketing campaign.
That's why we take great pains to create a robust, fast and confusion-free experience for your customers.
Smart Coupons can handle thousands of coupons. It is useful in dozens of situations. It's proven and tested in a variety of conditions, with most other WooCommerce plugins and themes.
You can expect to grow sales with Smart Coupons. You can expect higher conversions. And you can expect we will support you, and keep improving the plugin.
---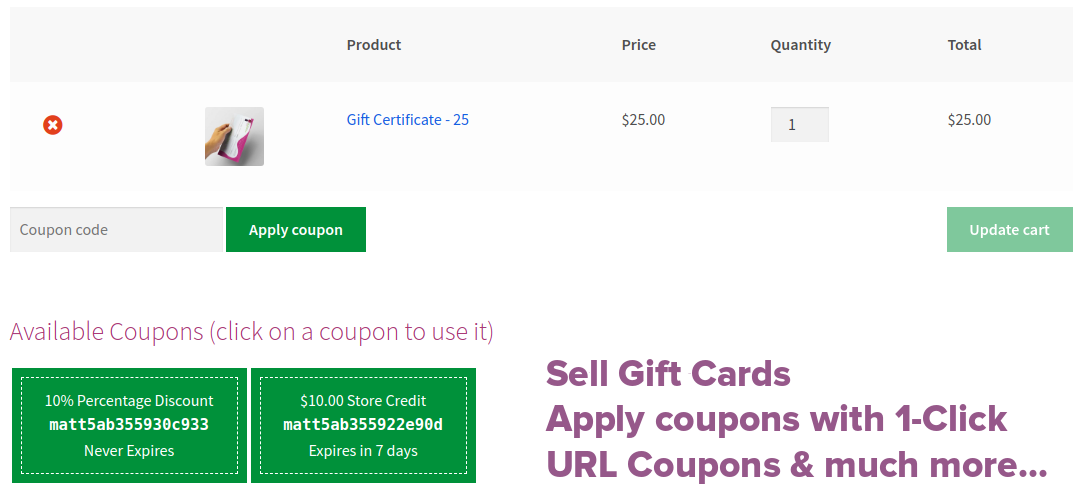 Smart Coupons positively impacts customer experience, conversions and revenues.
Developers, store owners, and end users – they all love this plugin.
From getting started to using it day in and out, Smart Coupons provides the most advanced and "all-in-one" coupon solution for WooCommerce.
Whether you want to offer store credits, generate a bunch of coupons for a promotion or provide links to customers with coupons embedded in them, whether you want to style coupons to your branding or allow gifting; Smart Coupons covers it all!
---
Bonus: secret "Take My Sales Through The Roof" strategies
Here are some quick actions you can take on your store to grow sales and wow customers – even today!
Strategy #1: Smartly Priced Discounted Credits
Find out your average order size – let's say $175. Create a Store Credit / Gift Certificate coupon for a higher amount – $250. Create a new product and price it at a value slightly above average order size. In this case, the new product can be priced at $200. Ensure the discount is lucrative enough. What you've just done is attracted your customers with a good discount, made them pay in advance, and continue spending in future to deplete their credit balance.
Strategy #2: Offer Discount On Higher Priced Product While Purchasing Lower Priced Product
Create a discount coupon and allow usage only on a specific higher priced product. Link this coupon with a related lower priced product. This way more people will buy the lower priced product and many of them will convert to a higher priced product as well.
Strategy #3: Offer Multiple Credit Coupons With One Product
More the merrier! Create multiple coupons of varying denominations and offer them on one or more products. Customers always like a steal!
Strategy #4: Holiday Season Gift Certificates / Time Limited Offers
Create a discount/credit coupon that is valid between a particular time range. Smartly price the coupon. Promote the offer in advance, you can even keep raising offer price as coupon start time comes closer. This will create scarcity and prompt people to buy more and buy earlier.
Strategy #5: Partner with a "Deals" site
Generate a bunch of coupons – and export them to a CSV file. Now share this CSV file with the "deals" site, so they can issue one coupon to each purchaser. You can import the CSV file back into your store so when buyers use the coupon, they get the promised deal. To make for a seamless experience, give a direct link to the product on offer with the generated coupon in the URL.
Strategy #6: Create an "Available Offers" page on your site
Create a new page in WordPress, link it from a prominent place on your site. And use shortcodes to display coupons for offers you have currently available. You can even use images, link them to a product page and pass the coupon code in the URL. People looking for deals will find this irresistible!
---
Conclusion
The best thing about Smart Coupons is that it is used by more than ten thousand people, it's fully tested and covers almost everything you may want to do with coupons.
Not only does it improve the built-in coupons system, but it also adds new business-centric features – helping you make more money with less work!
Plus it comes with detailed documentation and awesome support.
If you want the best coupon solution for WooCommerce, this is it.
You can count on it to work and it will generate a return on your investment quickly.
And don't forget to implement our "Take My Sales Through The Roof" tactics! (I listed them just above this conclusion!)
Really… You can confidently buy Smart Coupons.