Description
YITH Woocommerce Affiliates Premium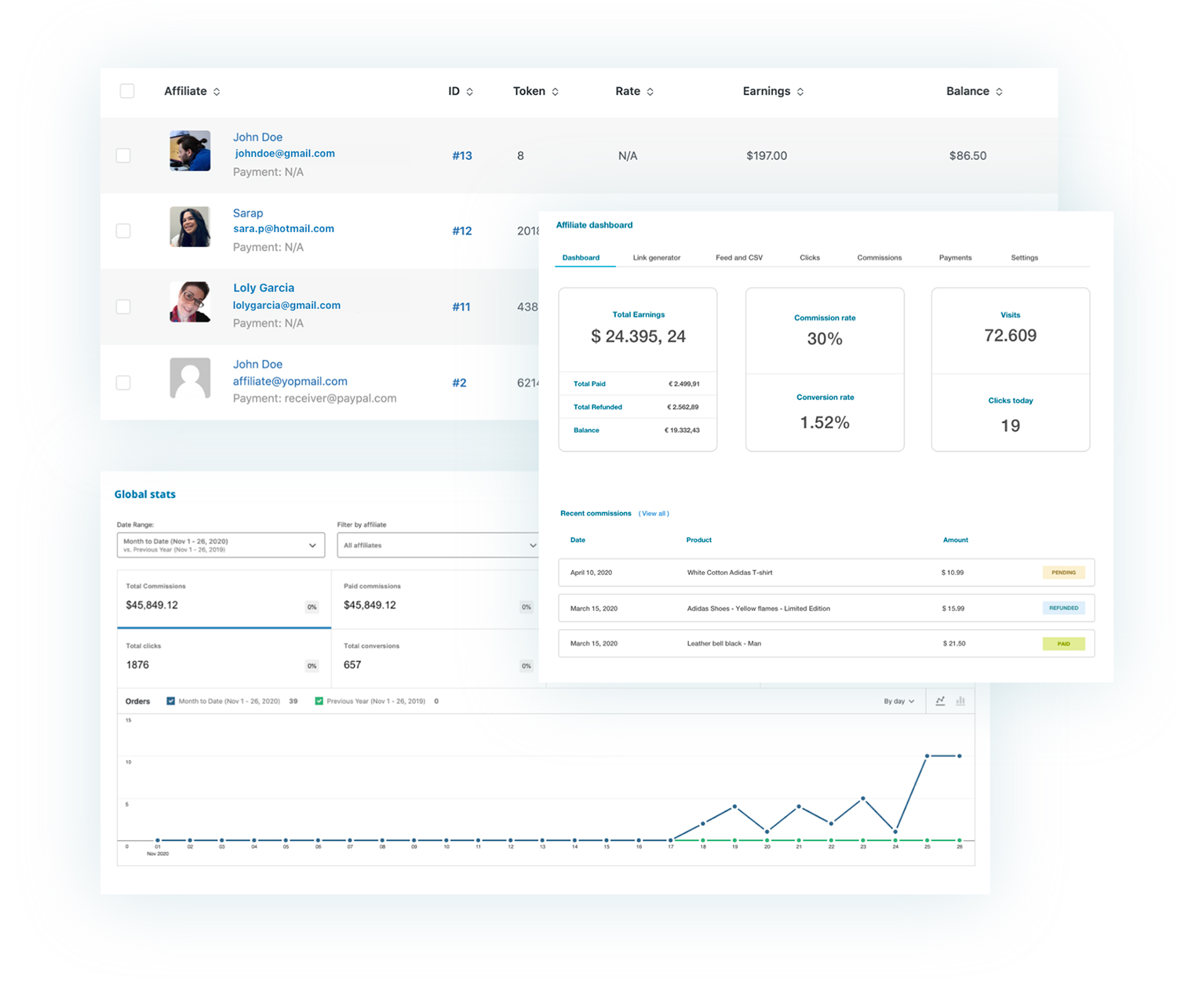 Take advantage of affiliate users and influencers to drive traffic to your shop and get visibility, attract new customers and increase sales.
An affiliate program is a partnership between a company and an affiliate, who through online posting (on a blog, on social profiles, etc.) drives traffic (that is, potential customers) to the target company e-commerce site and earns a commission on the generated sales.
Affiliate marketing can be a great source of income for any shop and actually, more than 80% of the online companies offer an affiliate program to their users, from the smallest and niche e-commerce stores to the biggest ones like Amazon, AliExpress, Zalando and Airbnb. According to the Business Insider reports, affiliations drive 25% of a store's traffic and 15-38% of the sales made. These are very high numbers that are set to grow in the next year thanks to the "influencers" phenomenon that is taking hold as an online advertising system.
With YITH WooCommerce Affiliate you can save on the advertising costs (where you are supposed to pay per click even if no sales are generated) and quickly launch an affiliate program in your shop: with just one plugin you get leads, traffic and sales through targeted partnerships with influencers and bloggers that embody your typical customer.
New
Create a registration page with a form that you can customize as you wish
Choose what information you need from the user who wishes to join your affiliate program and create your custom registration form. Name, email, URLs of their blog or social profiles, a brief biography etc. All you need to decide is whether to approve the application or reject it. Use the shortcode to add the form on any page of your shop. Quick and easy.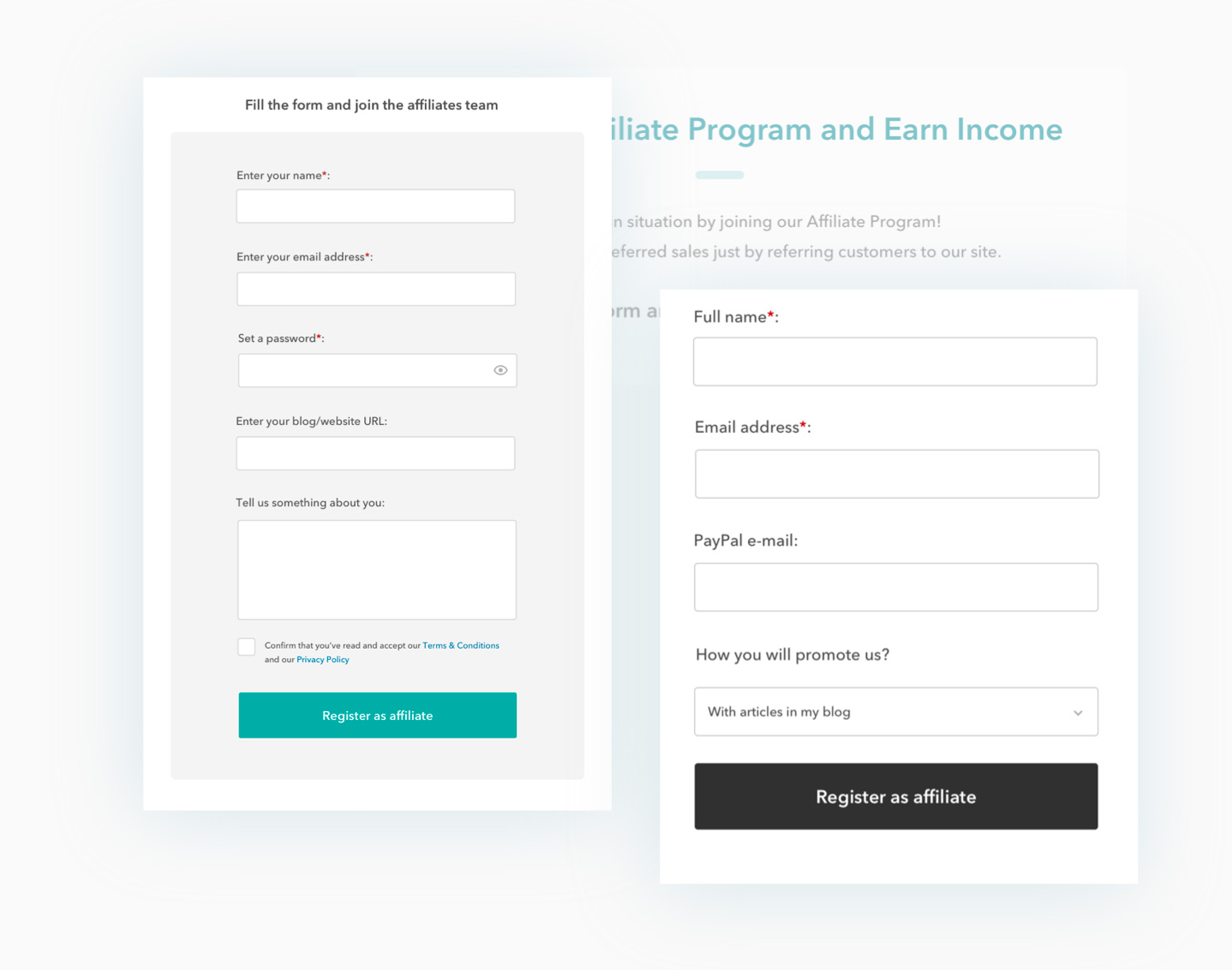 Monitor and manage all your affiliates from a dedicated table
From the Affiliates table, you can manually add new affiliates (choose between registered users or add a new one through the modal window) and also approve or reject the affiliate applications that come through the registration form in your shop. The table will give you a quick overview of the commissions, earnings, and conversion rates of all the affiliates and it will allow you to access a specific affiliate detail page.
Monitor every detail of your affiliate users
From the Affiliates table, you can access every affiliate detail page. On this page, you can find personal information (like website, registration date, referral URL, etc.) and the details of the generated commissions and payments made. You will be able to override the global % commission and set up a custom one, ban affiliates, and much more.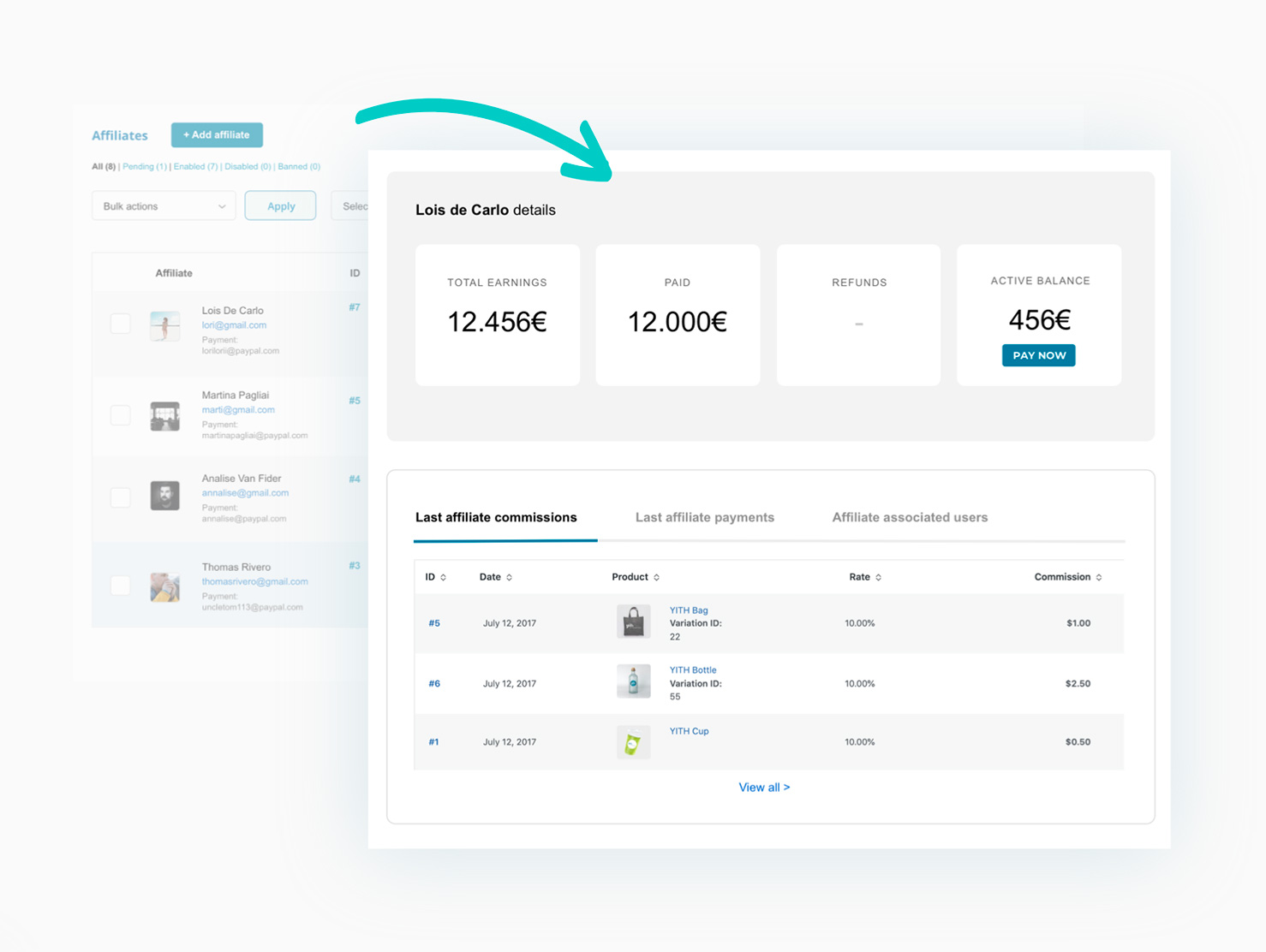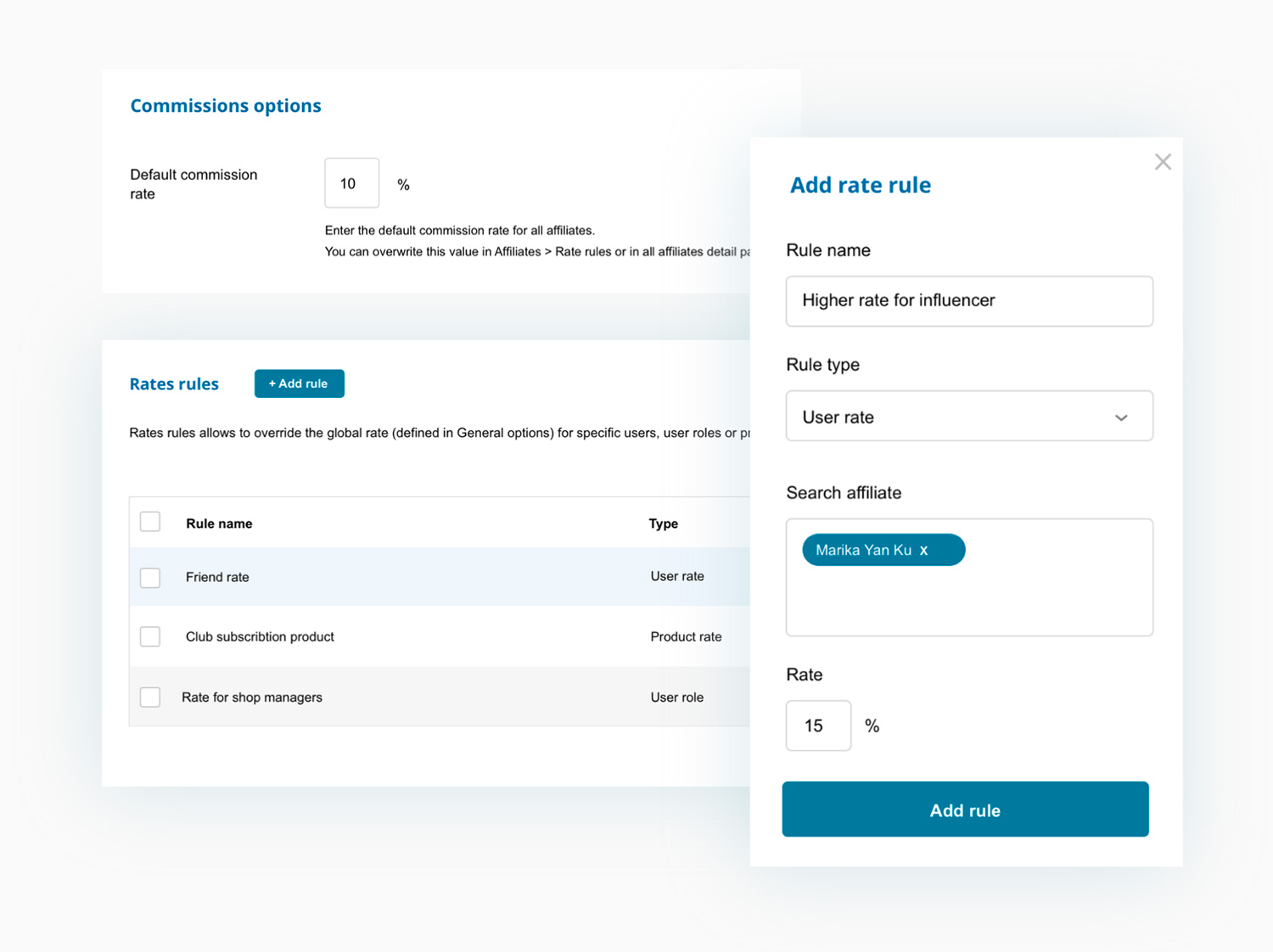 Set a default commission and add rules to configure different amounts per user, user role or product
Set a global commission that will apply to all affiliates by default. You can override this value for specific affiliates and create custom rules to configure different commissions based on the promoted product or their specific user role. In this way, you can set, for example, a global 20% rate for all products and a higher or lower rate for one specific product only.
Choose how to manage the commissions payment
Choose whether to issue the payment of the generated commissions manually or automatically. In case of manual payment, you can decide when to pay the commissions (from the Affiliates table or the Commissions table) or wait until the affiliate submits a payment request through his or her dashboard. In case of automated payment, you can decide whether to pay all the commissions daily or monthly (on a specific day, e.g. every 15th of the month); when a set amount is reached (e.g. the payment will be issued when the affiliate reaches the threshold amount of $100); or combine the last two options: issue the payment monthly but only if the commission threshold is reached. Additionally, you can set a maximum amount for the payment (e.g. even if the affiliate has $1,000 of generated commissions, a maximum payment of $500 can be requested and the remainder will be paid through a separate request).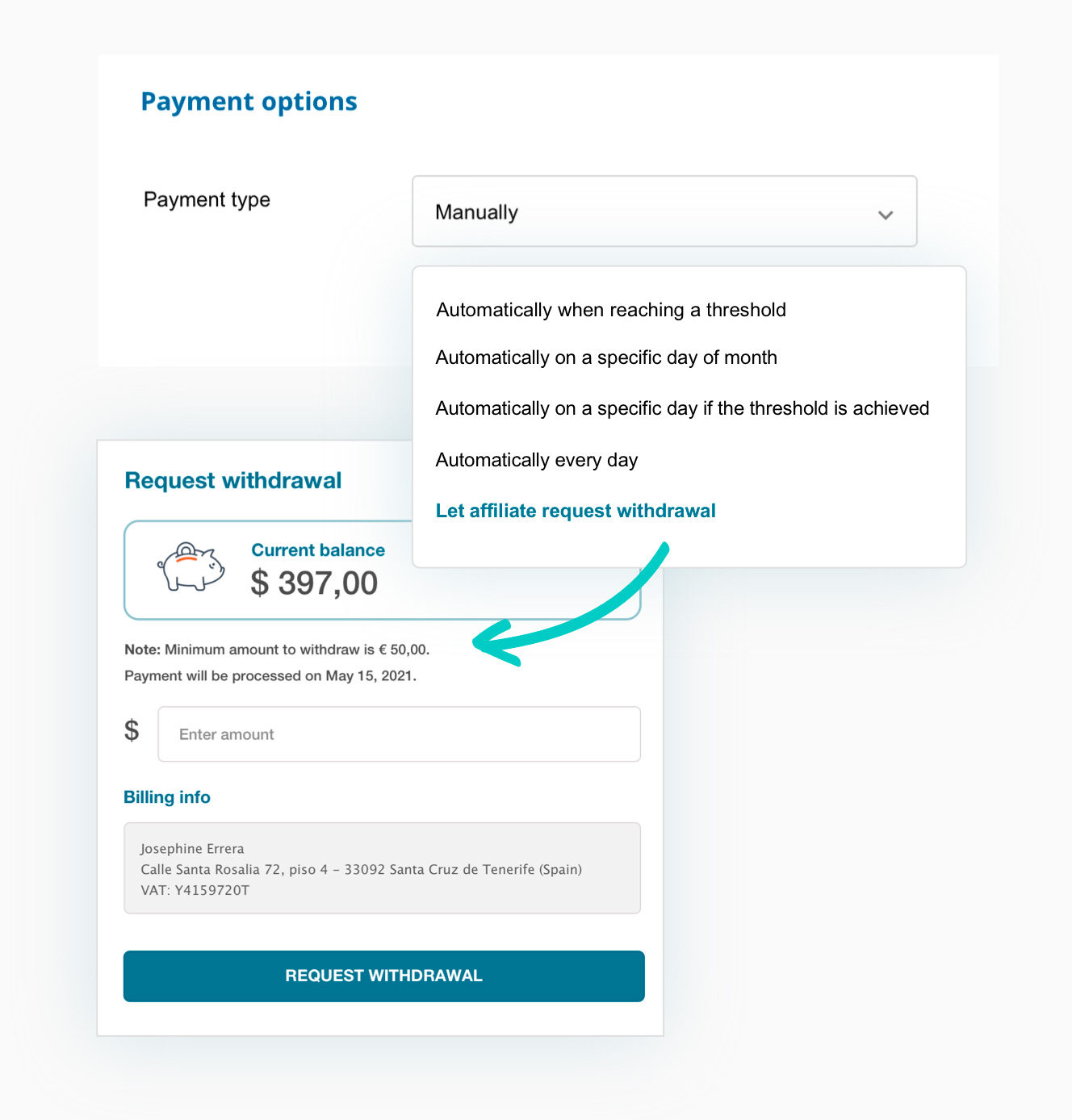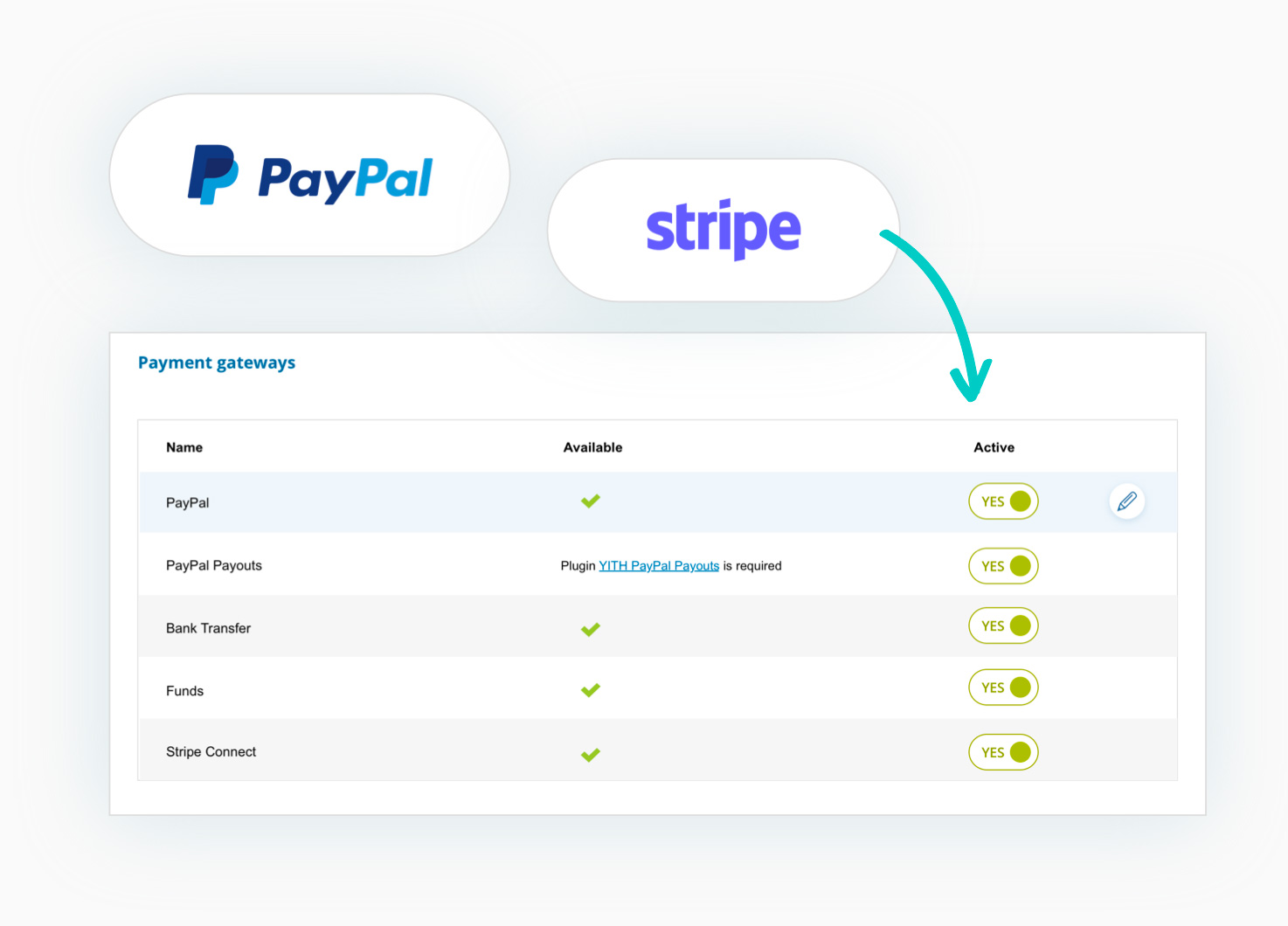 Choose how to pay the commissions
Pay the commissions manually by bank transfer (and then mark them as paid in the plugin panel) or, for easier and faster management, issue the payment through PayPal or Stripe. You can achieve this by combining it with our plugins YITH PayPal Payouts, YITH Account Funds or YITH Stripe Connect, completely automating the commissions payment, so the plugin will do all the work for you.
Manage commissions through the dedicated table
In the Commissions table you will be able to monitor and manage all the commissions, the products through which they were generated, pay them manually, and check the details of every single commission.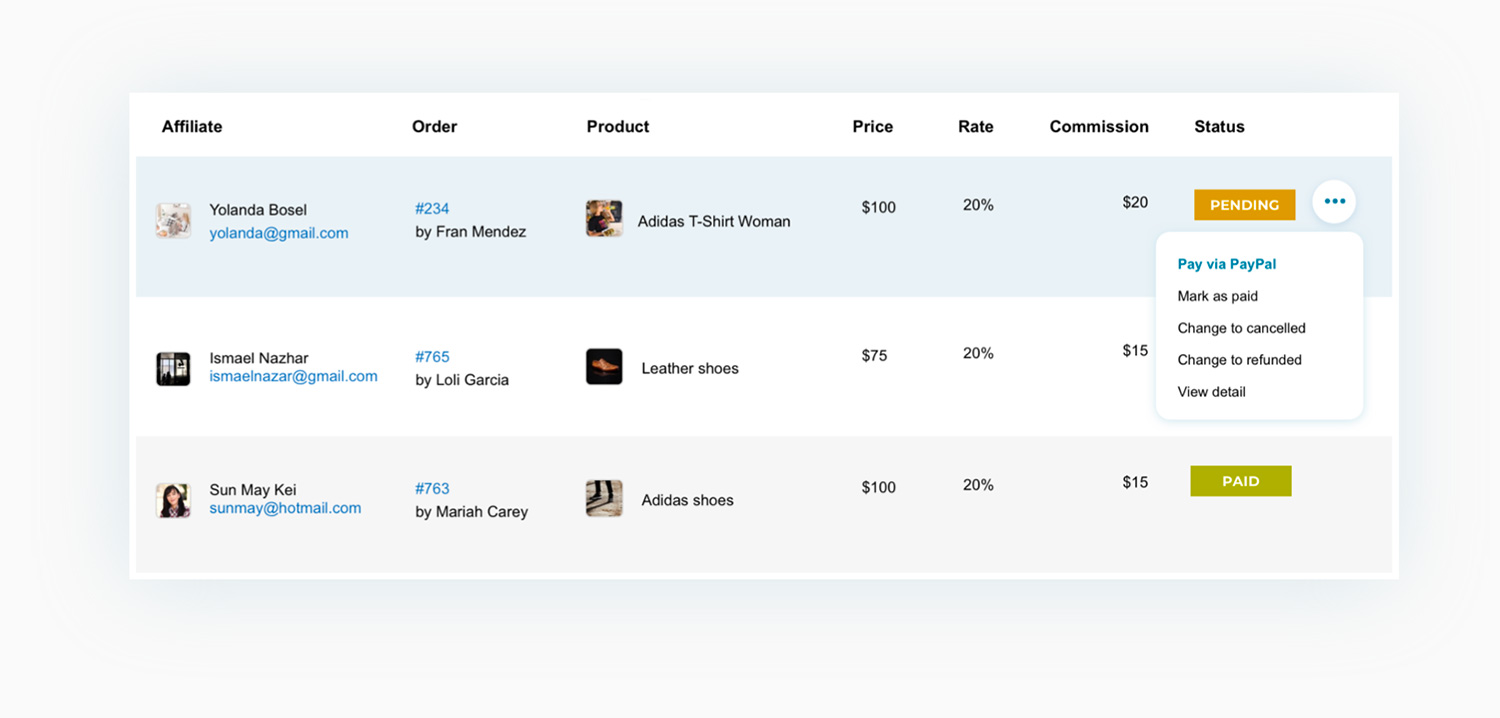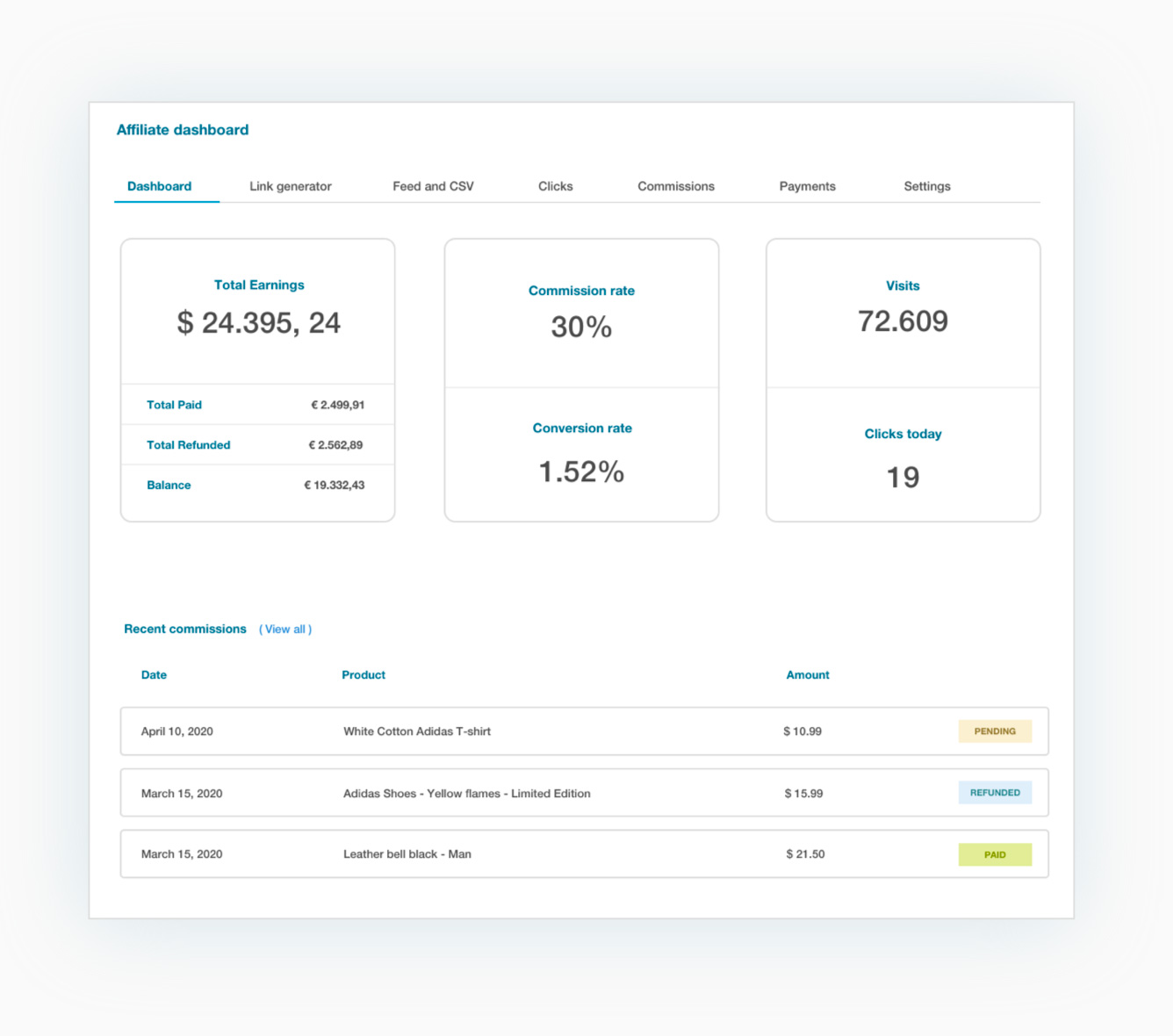 Let your affiliates monitor their profile, clicks and generated commissions from a dedicated dashboard
Choose whether to let affiliates access the affiliate dashboard through an endpoint available in My Account after they log in or in a custom page through the built-in shortcode. From the dashboard, affiliates will be able to get a broad overview of the leads (visits, clicks, etc.) and the generated commissions. They will be able to monitor their own credit and ask for the payment of the commissions (if the admin has enabled the related option), find their referral link and create new ones, edit their personal details (billing address, PayPal email to receive the payment, etc.) and much more.
Assign coupon codes to your affiliates and let them offer a discount to the users they refer to your shop
Do you want your affiliates to effectively promote your shop? Take advantage of the strategy used by some of the biggest e-commerce stores like Shine, Zalando, Zara, etc. and generate a discount code for each affiliate. This way, the affiliates can offer a discount to their blog readers or social media followers and drive even more traffic to your store.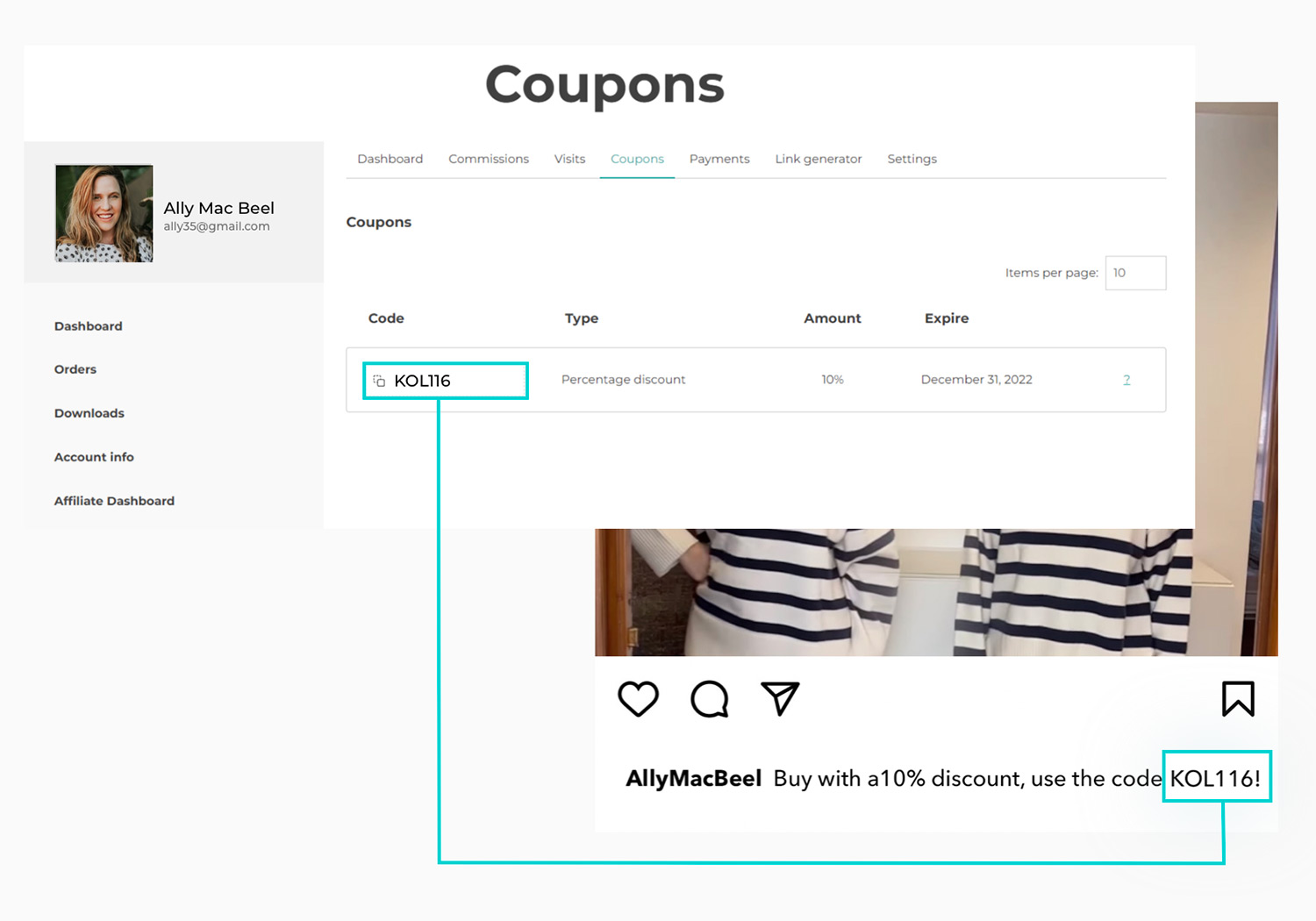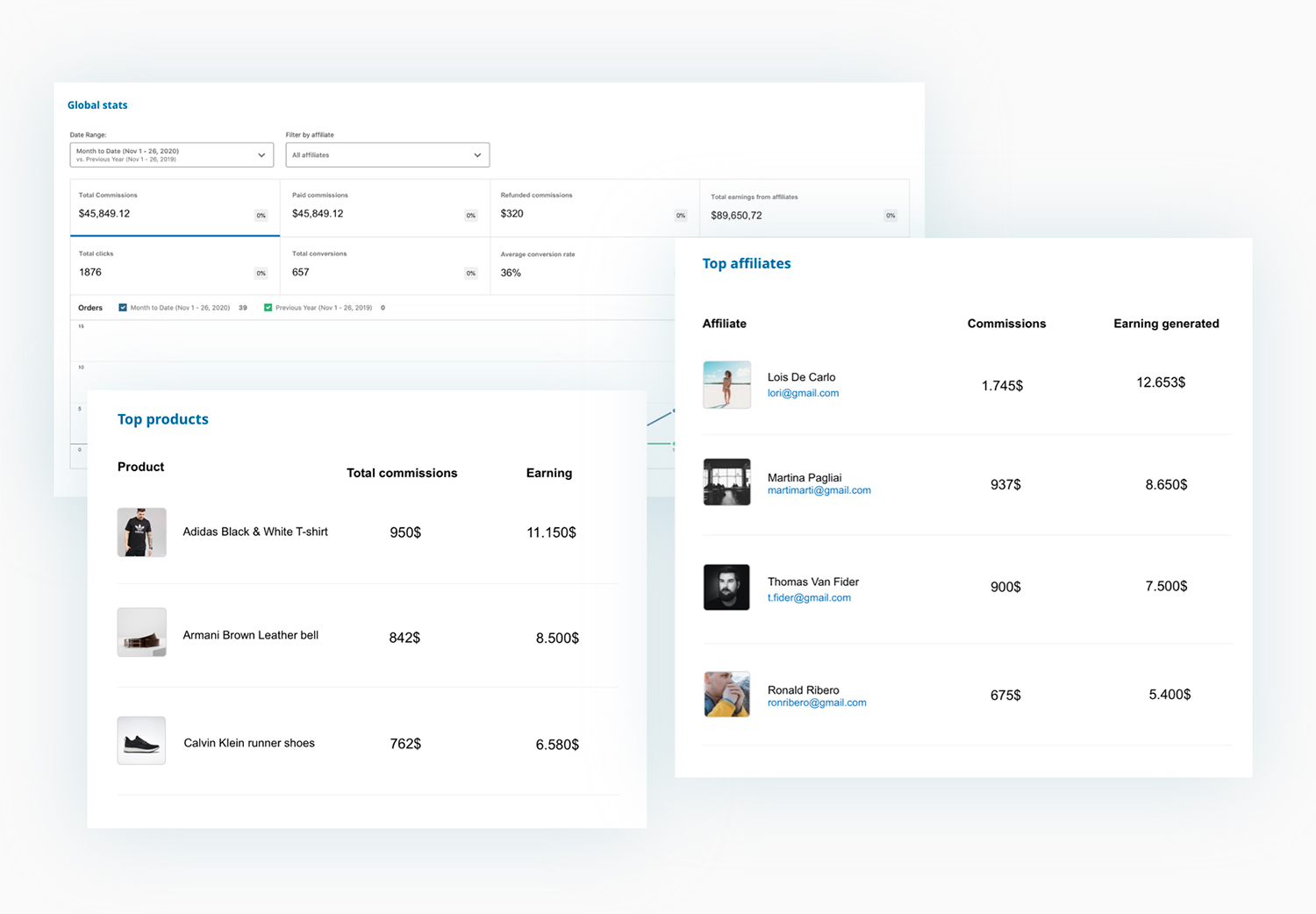 Monitor the affiliation-generated earnings and the affiliate users who generate most traffic from the integrated dashboard
From the integrated dashboard, you will be able to constantly and easily monitor the progress and trends of your affiliate program. For example, you can understand the sales volume generated by your affiliates, which affiliates are more productive, and the popular products that generate the most leads.