Description
WooCommerce Opayo ( Formerly SagePay )
To complete your application simply fill the first page of the application form (ignore the other pages). Plus feel free to call: (+44)191 479 5977 if you have any questions.
Simple pricing plans. For every business.
You deserve the best payment provider that works for your business. That's why our pricing plans are simpler than ever, starting from £9.99 per month plus VAT.
Why choose Opayo?
Security at its core.
Our payment gateway is the most secure & reliable in the industry, with 99.9% uptime and industry-leading fraud tools at no extra cost. Because peace of mind shouldn't be a premium.
Customers at its heart.
Opayo is known and trusted by businesses and consumers alike. We pride ourselves on delivering the best customer service and that's why we're the only payment provider with a 5* Trustpilot score.
Growth on its mind.
Receive funds into your business bank account within 2 working days instead of the usual 7+ days with some of our competitors – giving you cashflow and more opportunity to grow.
Your business, your way. 
Opayo is an independent gateway. This means you can use your own existing merchant account, or an alternative to best suit your needs. The choice is yours.
*Mandatory Merchant Services will be set-up for customers by Opayo.
To complete your application simply fill the first page of the application form (ignore the other pages). Plus feel free to call: (+44)191 479 5977 if you have any questions.
Two great payment gateways. That can easily be integrated into your web site. Enable one or both!
Option 1: Opayo Form A simple encrypted form submission post from your website to the Opayo systems, the shopper is transferred to a payment page for the card details to be securely captured.  Because Opayo handles the payment process for you, no SSL certificate is required on your web site. After the customer completes the payment, the order is confirmed and the user is taken to the 'Thank You' page on your site.
Option 2: Opayo Direct now supports tokens and will allow your customers to save their card information for faster checkout. See here for more information
When using Direct the customer stays on your site for the entire transaction, so an SSL certificate is required.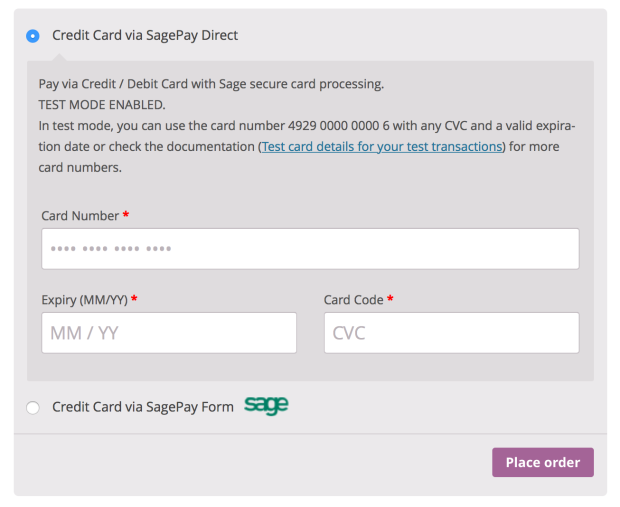 Choose the gateway that's right for you:
OPAYO FORM
OPAYO DIRECT

Customer is redirected to Opayo to complete payment – simplifies PCI Compliance.
SSL Certificate not required.

Customer stays on your site for entire transaction.
SSL Certificate required.
Supports WooCommerce Pre-Orders extension.
Supports WooCommerce Subscriptions extension.
Supports refunds in WooCommerce admin
Learn more about merchants' success with Opayo
________________________________________________________________________________________
General Terms and Conditions
1. The promotion is provided by [Opayo Europe Ltd] whose registered office is at North Park, Newcastle Upon Tyne, NE13 9AA ("Opayo", "we", "our", "us"). By participating in the promotion, you indicate acceptance of these and conditions together with any specific instructions and terms for such promotion which may be mentioned in any electronic messages, on our website, or communicated to you in any other way.
2. Any orders relating to the promotion will be subject to our standard terms and conditions of purchase and / or product or service specific terms and conditions of use.
3. The promotion cannot be used in conjunction with any other promotion unless otherwise indicated.
4. We reserve the right to change the promotion rules and withdraw the promotion at any time.
5. We reserve the right, in our sole discretion, to reject your application to participate in the promotion.
6. We shall not be liable to you if you suffer any financial loss or damage from our refusal to allow you to take part in the promotion or our withdrawal of the promotion or for any failure or inability by you to use the promotion for any reason. Nothing in these rules excludes or limits our liability in respect of personal injury or death caused by us, or for fraud.
7. We will only process your personal information as set out in our Privacy Policy.
8. These terms and conditions are governed by English law and the exclusive jurisdiction of the courts of England and Wales shall apply.
Promotion Specific Terms & Conditions
1. The promotion shall apply from [date that we commence] to 30th September 2019.
2. The promotion relates to the provision of a volume based tiered pricing model. Specified pricing shall prevail until such time that Opayo withdraws the promotion.
3. As part of the promotion, you shall gain access to different pricing tiers that are based on transaction volumes. This will provide you with better value as you will be paying for services in line with your usage.
4. By participating in the promotion you must accept Merchant Services from Opayo in partnership with the acquirers we work in conjunction with. In the event an acquiring partner rejects your application, we reserve the right to reject your application for gateway services.